OPERATING PARAMETERS
| | | |
| --- | --- | --- |
| Main dipper capacity, m3 | 18 | القدرة الاساسية للمجرفة |
| Dipper capacity range, m3 | 16-24 | مجال قدرة المجرفة |
| Dipper sheave force, t Crowd force | 170 | قوة بكرة المجرفة، قوة الدفع |
| max, t | 75 | القصوى طن |
| Time of working cycle, s | 27 | زمن دورة العمل |
| Digging height, max, m [C] Digging radius, max, m [D] | 16,4 | 22,2 | ارتفاع الحفر، القصوى، م نصف قطر الحفر، الأعظمي م |
| Clean-up radius, m [Е] Dumping radius, max, m [В] | 14,9 | 19,6 | نصف قطر التنظيف، م، نصف قطر التفريغ الأعظمي م |
| Dumping height, max, m [ А ] | 10,7 | ارتفاع التفريغ، الأعظمي م |

MASSES AND OVERALL DIMENSIONS
| | | |
| --- | --- | --- |
| Working mass, t | 750 | كتلة العمل طن |
| Mass of ballast, t | 82 | كتلة ثقل الموازنة طن |
| Ground bearing pressure, MPa (kg/cm2) | 0,245 (2,5) | تحمل ضغط الأرض |
| Height of boom point sheaves, m [ G ] | 17,67 | |
| Height of A-frame, m [ K ] | 12,74 | ارتفاع الاطار م |
| Max. clearance radius over boom point sheaves, m [ H ] | 16 | |
| Max. clearance radius over revolving frame, m [ I ] | 10 | |
| Clearance under frame, m [ J ] | 3,36 | |
| Clearance under lowest point, m [ M ] | 0,85 | |
| Operator's eye level, m [ N ] | 8,32 | |
| Overall width, m [ L ] | 12,3 | |

Drive system :
– Energy efficiency
– فعالية الطاقة
– High weighted power factor (0, 95)
– ارتفاع معامل القدرة المرجح
– Low content of upper harmonics in power supply network
– محتوى منخفض من التوافقيات العليا في شبكة تزويد الطاقة
– Electrical braking of units in case of 6kV power supply network failure.
– الكبح الكهربائي للوحدات في حال فشل شبكة الطاقة بتزويد 6 كيلو فولت
Protection الحماية :
– Protection from internal and external short circuits and overloads;
- الحماية من قصر الدارة الداخلي والخارجي والتحميل الزائد
– Protection from overload (overheating) of IGBT transistors;
– الحماية من الحمل الزائد (ارتفاع درجة الحرارة) الترانزستورات
– Protection from open-phase operation and wrong phase sequencing;
– الحماية من تشغيل طور مفتوح وتعاقب الطور الخطأ
– Protection from motor voltage overload;
– الحماية من الجهد الزائد للمحرك
– Protection from power supply line voltage overload and voltage drops;
– الحماية من تزويد خطوط الطاقة بالجهد الزائد وهبوط الجهد
– Protection from frequency converter cooling system ventilation failure;
– الحماية من عطل تهوية نظام تبريد محول التردد
– Protection from insulation resistance drop;
–العزل الحماية من انخفاض مقاومة
– Protection from drive self-rotation.
– الحماية من الدوران المحرك الذاتي
Working lighting Cables أسلاك عمل الإضاءة
– LED lights and floodlights.
– أضواء LED والأضواء الكاشفة
– Self-extinguishing cables, working temperature range: – 40°С to + 80°С.
- أسلاك الإطفاء الذاتي، والعمل ضمن درجة الحرارة: - 40 ° م إلى + 80 ° م

Protection الحماية
– From electric shocks.
– من الصدمات الكهربائية
– From resistance level drop.
– من انخفاض مستوى المقاومة
Auxiliary drives ملحقات المحرك :
Aux. equipment power supply voltage ملحقات لتأمين التيار الكهربائي :
– aux. drives – 380 V;
– ملحقات المحرك 380 ف
– Lighting – 220 V;
– الاضاءة 220 ف
– AC control circuits – 220 V;
– دارات التحكم
– DC control circuits – 110 V;
– دارات التحكم
– Warning circuits – 24 V;
– دارات تحذيرية
– Clearance and emergency lighting – 12 V.
– الإضاءة في حالات الطوارئ والأمان 12 ف

FRONTAL EQUIPMENT
Frontal equipment design - rigid rack - type crowd mechanism with double-beam stick and sheave-less dipper suspension.
تصميم التجهيزات الأمامية – مجرفة نموذج صلب بآلية جرف مزودة بعارضتين مزدوجتين للجرف مع بكرة تعليق المجرفة.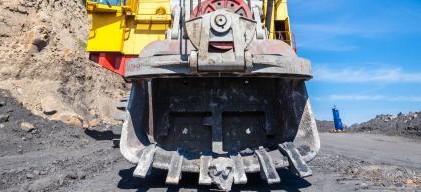 Boom
Boom design
– all-welded box-section boom with heat-treated transverse and longitudinal diaphragm plates and forged parts.
– The boom has increased strength and torsion- proofness for digging rocky soil.
Crowd mechanism Gearbox
Coupling Hinge joints
– mounted in the middle of the boom.
– Two-stage gearbox with external rack-and-pinion gear.
– With flexible elements, coupling diameter 50mm.

Boom suspension
Boom point
sheave Brake
– Separate for each side of the boom, with heavy-duty bushings and axles.
– four guy ropes, rope diameter 70mm.
– double-groove cast sheaves with heat-treated working surface.
– pneumatic normally-closed shoe brake.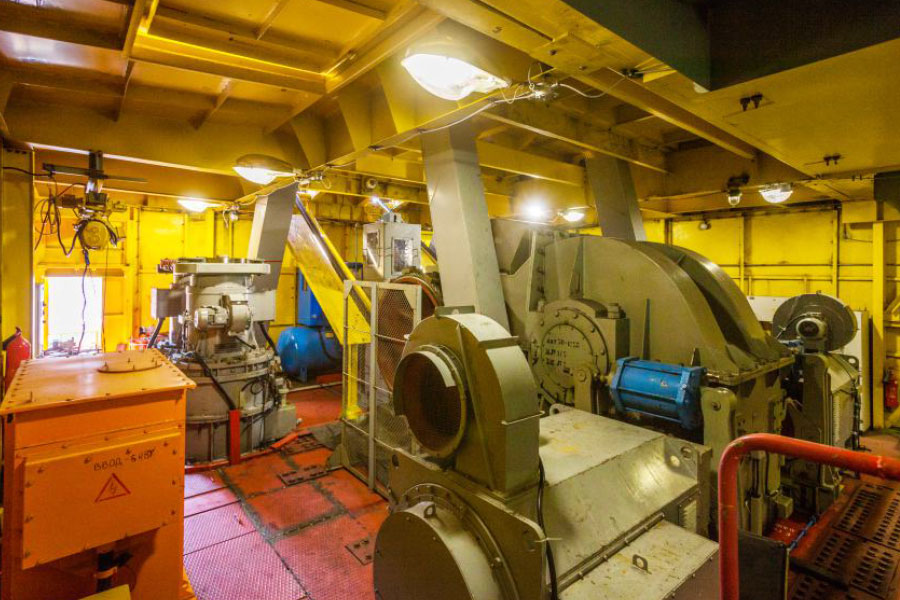 Dipper
Design Material
– decast and welded.
Hinge joints
– front wall, door, and teeth are made of high-manganese steel.
– rear wall is welded of rolled plates.
Dipper door brakes
– with heavy-duty bushings, pins, and axles.
– disc brakes mounted on the rear wall.