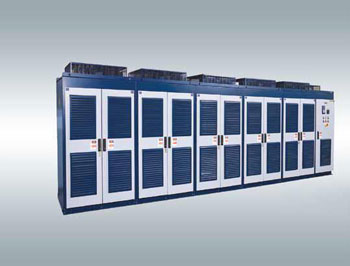 Is a traditional supplier of solutions in speed variation, manufacturing all the parts of a system: Input switchgear, transformer(dry-type or oil-type), frequency inverter and electric motor. The MVW01 is designed to control medium voltage induction motors. It features unique innovations, combining hardware robustness with simplicity, reliability and safety in a compact solution with few components and state-of-the-art generation technology.
MVW01 follows the same programming philosophy of the low voltage inverter line, simplifying its application. It has a multilevel topology with high-voltage IGBTs (3.3 or 6.5 kV) and optimal switching reducing the motor harmonic currents to extremely low levels. The few number of power component parts, increasing its efficiency and reliability.
The multipulse diode configuration of the input rectifier gives a high power factor in the power supply meeting IEEE 519 requirements.
In the control stage, it has a multiprocessing architecture using 32-bit processors (64-bit bus) with floating point capability and high performance, ensuring high efficiency in motor control.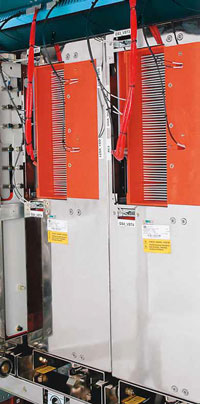 Main characteristics
* Motor voltage: 2.3 kV, 3.3 kV, 4.16 kV or up to 6.0 kV - 6.9 kV
* Power ratings up to 8,000 hp (6,000 kW)
* 12-pulse diode input rectifier (18 or 24 pulses are also available)
* In the compact model, the 18-pulse rectifier is standard
* Reduced number of components, which results in high efficiency and reliability
* Assembled in IP41/NEMA1 panel
* Multilevel power topology: Neutral Point Clamped (NPC)
* 3/5 level up to 4160 V
* 5/9 level above 6000 V
* Power and control sections isolated by fiber optic
* Network communication: DeviceNet, Modbus, Profibus-DP and Ethernet
* Dry-type plastic film power capacitors of high reliability and long useful life
* Voltage Source Inverter (VSI)
* Air-cooled
* High efficiency (> 99%)
* High power factor (> 95%)
* Low noise level (< 75 dBa)
* Low heat dissipation
Characteristics
Software for Drives Programming
SuperDrive is a programming software for the MVW01 drives.
The software incorporates functions such as: parameters upload and download, drive operation and monitoring, off-line programming, and trace function.
SuperDrive is a Windows compatible software (Windows 95, Windows 98, Windows ME, Windows NT Workstation 4.0, Windows 2000 Professional, Windows XP and Windows 7).
The Drive-PC communication uses a RS-232 or a RS-485 interface.
Applications
Chemical, Petrochemical, Oil and Gas
Pumps
Fans / Exhausters Compressors
Mixers / Agitators
Cement and Mining
Ovens
Fans / Exhausters
Conveyors
Mills
Steel and Metallurgy
Pumps
Fans / Exhausters
Steel Mill
Winders
Sugar and Chemical
Sugarcane mill
Fans
Exhausters
Preparation
Pulp and Paper
Pumps
Fans
Exhausters
Refiners
Plastic and Rubber
Banburys®
Extruders
Water & Waste
Water Management
Pumps