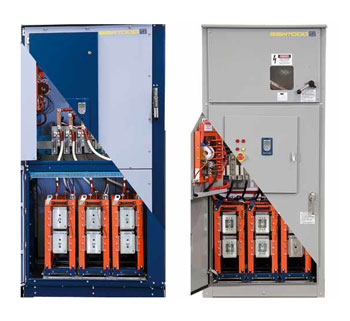 The SSW7000 uses state-of-the-art technology to provide start / stop control and protection for three-phase medium voltage induction motors. Developed to ensure excellent performance, it prevents mechanical shocks from the load, protects the motor against related burnouts or current surges in the power supply and thus, offers a complete solution for various applications.
The SSW7000 reduces the voltage applied to the motor at start. As a consequence, motor current and torque is reduced for a smooth start. The motor voltage control is performed with the firing angle control of the thyristors in antiparallel connection
Features
* Torque control
The SSW7000 features FTC - Flexible Torque Control, technology developed by WEG which uses the vector control and control of direct torque concepts, based on technologies developed for the vector frequency inverters CFW.
The FTC is flexible to select the desired torque control according to the type of load applied to the motor (constant loads, quadratic loads, or loads with lower or higher starting torque), providing a smooth start with a linear speed ramp along the entire starting process.
* Accessories can be easily and quickly installed by using the Plug and Play' concept
* Motor voltage: 2.3kV, 4.16kV or 6.9kV
* Power: 750 hp to 4500 hp
* Output current: 180A, 300A and 360A
* Protection Degree: IP41 or Nema 12
* Operating interface (HMI) with graphic LCD
* Real time clock
* Main and bypass vacuum contactors
* Medium voltage fuses
* Power and control insulated by fiber optics
* Flash memory module (accessory)
* SoftPLC Function
* Licence-free software SuperDrive and WLP
* USB connection to PC
* Motor thermal protection - PT100 - 8 channels (optional accessory)
* 5 start modes
* Network communication boards (accessories): Devicenet, Profibus-DP, Ethernet and Modbus, RS-232 or RS-485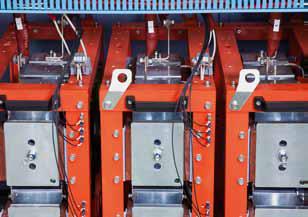 * The heatsinks are dimensioned for the heavy duty overload cycle.
* The power stacks are developed in independent modules with wheels, making installation and maintenance easy
Enables smooth starting of motors up to rated speed, by eliminating impacts of inrush current on the power supply and by eliminating impacts of mechanical shocks on the load and the coupling. This helps in reducing maintenance of bearings, couplings, gear boxes, pulleys, belts and chains, in addition to protecting the motor.
Functions
* Power supply overvoltage and undervoltage programmable protections, voltage unbalance between phases of the power supply
* Motor overload and underload programmable protections
* Motor thermal protections
* Actuation of the programmable protections between fault or alarm
* Indication of:
* motor current per phase, motor current as % of SSW rated current and as % of motor nominal current
* power supply input voltages per phase
* motor active and apparent power in kW and kVA
* value of the analog inputs
* status of the digital inputs and outputs
* status of the thermal class protection
* temperature of the SCRs
* motor temperature using the accessory module for measuring temperature IOE
* hours energized, hours in operation, hours fan use
* ground fault current or voltage
* Fault and alarm indication
* Fault history:
* saving of the 10 last faults
* date and time of fault occurence
* motor current in the fault event
* power supply voltage in the fault event
* SSW7000 operating status in the fault event
* Start and full duty diagnosis:
* maximum starting current
* average starting current
* real starting time
* maximum current at full duty
* Power supply maximum and minimum voltage with the motor activated
* Power supply maximum and minimum frequency with the motor activated
* maximum number of starts per hour
* total number of starts
* maximum temperature of the SCRs
* maximum temperatures of the motor (with the use of the IOE accessory)
* Flexible selection of start and stop control type, enabling: Ramp Voltage, Constant or in Ramp Current Limitation, Pump Control and -Constant Torque Control, Linear or Quadratic load starting
* Flexible Torque Control with extremely high performance
* Possibility to monitor the measurements of power supply voltages via Serial or Fieldbus communication
* Monitoring and programming in graphical mode using SuperDriveG2 Software
* Soft PLC allows implementation of PLC software or special operating versions of SSW7000 soft-starter.
Applications
- Chemical, Petrochemical, Oil and Gas
- Cement and Mining
- Steel and Metallurgy
- Sugar and Chemical
- Pulp and Paper
- Water & Waste Water Management.