The Revolving Disc Cooler "RDC" is a giant leap in clinker cooling and not another compromise only. No ifs or buts - it is a 100% cross flow heat exchanger! This concept is new and revolutionary in the clinker cooling process. The principle of a revolving cooler is known and applied for many years in the steel industry. However, the requirements differ considerably. The RDC does not only eliminate problems and obstacles but provide options we never had before.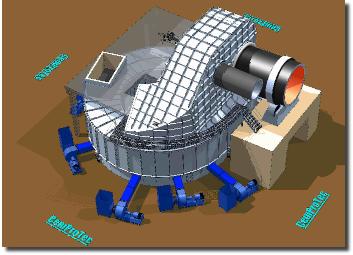 The axes of kiln and clinker cooler are approximately perpendicular arranged. Thereby, the clinker discharge segregation by the kiln rotation eliminates the problem of fine and coarse side in the cooler. The clinker need only be distributed across the grate width. This function will be carried out by our successful and proven Clinker Distributions System "CDS", which is working remarkable well in reciprocating grate coolers. Such CDS is located above the slowly rotating disc, which is covered by a dead clinker layer.
Our Smart Blade grate system forms the RDC grate surface. A number of aerated compartments underneath the rotating disc provide cooling air to the Smart Blade grate system and clinker above. The compartment walls are stationary and very well sealed.
A special removing device discharge the clinker on to a Roller Crusher located at the outer diameter of the RDC. Just a dead clinker layer will remain and protect the surface against the hot clinker for the next turn.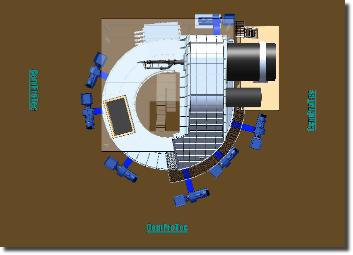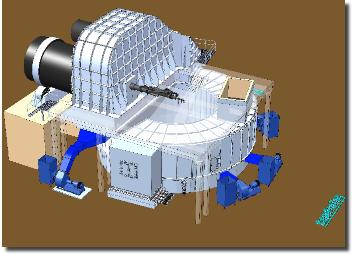 The disc speed is similar to the "Funkturm" (Radio Tower) in Berlin, approximately 30 minutes per round and independent of the design capacity. By the way, the outer diameter of the sky restaurant in the Funkturm in Berlin is about 29 m, which would be suitable for a 15000 tpd RDC clinker cooler.
The kiln diameter goes with the capacity and so does the RDC diameter. Grate speed is no longer an issue.Since the Smart Blade grate system on the RDC is completely free of clinker spillage, no dust handling and transport systems are required. The roller bearings of the disc underneath are maintenance-free and designed for many years of lifetime. A constant layer of dead clinker protects the Smart Blade grate surface and long lifetime as well.
Think and discuss with us about the RDC and you will recognize how simple and smart it is.
RDC, a simple and unique clinker cooler concept:
• For any kiln capacity - the kiln grows by the diameter and so does the cooler
• 100% transport efficiency
• Highest process efficiency - perfect cross flow heat exchanger
• Very limited wear and maintenance
• Extremely low gas velocities to kiln hood and exhaust air
• Short burner
• Low cooling air volume and hence exhaust air
• Electrical drive for continuous motion
• Low power consumption
• CDS and Smart Blades are proven and spillage free
• Simple operation and control of cooler
• New options in kiln-cooler control